Rosini Gutman Collection
YACHTING AND ART 2015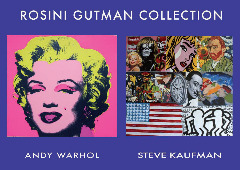 October 1, 2015 — American Pop Art, Inc. is delighted to announce that Rosini Gutman Gallery is now representing Steve Kaufman in his gallery and exhibitions, a brilliant addition to his notable collection of Andy Warhol works of art. Rosini Gutman Gallery is located at V.Ie Ceccarini 35/G – 47838 Riccione RN, Italy.
This delightful new partnership was marked by participation in Yachting and Art, one of the region's most popular art events. In collaboration with the Italian Embassy, the Yacht Club of Monaco held its 2nd Annual Yachting and Art Celebration (YA!2015) from October 1 through October 4, 2015.

Kermesse Art on Board is a unique opportunity for owners to promote a contemporary artist and offer them an exclusive exhibition space for four days. As part of this event, Rosini Gutman Gallery presented works by Andy Warhol, Steve Kaufman, Amedeo Modigliani, Mario Tozzi, Giancomo Balla, Vittorio Corona, Filippo De Pisis, and Simon Benetton.

Exhibitions were held along Quai Louis II and Quai de I'Hirondelle, indoors at the Yacht Club of Monaco, and aboard yachts moored in the YCM Marina. Highlights included a launch party and gala dinner, and four days of formal and informal networking between owners, collectors, artists, and notable personalities. This is a fabulous occasion to be celebrated by all who share a passion for art and the sea. We look forward to next year!