Galleria Farini: STEVE KAUFMAN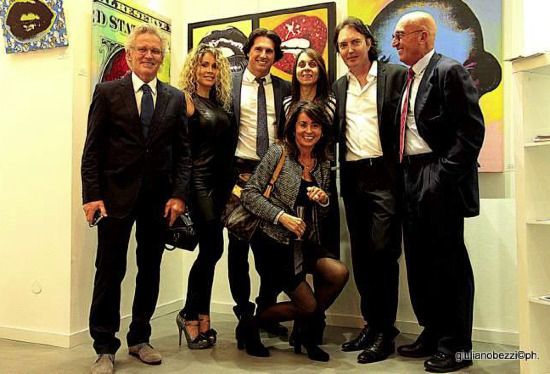 Galleria Farini Opens New Location in Bologna, Italy Dedicated to American Pop Artist Steve Kaufman (SAK)
September 23, 2014 / Bologna, Italy — American Pop Art, Inc. and Steve Kaufman Art Licensing LLC are proud to announce the grand opening of Galleria Farini: Steve Kaufman Pop Art, a new gallery devoted entirely to the late pop artist Steve Alan Kaufman (SAK), former assistant to Andy Warhol, and located in the heart of Bologna's central tourism district at Via Luigi Carlo Farini 26/D, 40124 Bologna, Italy. A grand opening celebration will be held on Saturday, September 27, 2014 at 6:30 PM, sponsored by Steve Kaufman Art Licensing LLC, Alessandra Dal Borgo, private banker of Alpen Bank; and Vini Casolari. Admission is free.
Galleria Farini: Steve Kaufman Pop Art will present, for permanent display, the first exhibition in Bologna for American artist Steve Kaufman, who explored pop art techniques and pushed its boundaries in the era succeeding Andy Warhol. Approximately fifteen works will be featured at the gallery's grand opening on September 27.
Born in the Bronx, New York in 1960, Steve Kaufman assisted Andy Warhol at the Factory Studio before establishing his own New York-based studio in 1990. Steve Kaufman became a key exponent in the advancement of pop art with his signature technique of hand-embellishment, his development of the 6-color silk screen method, and large-scale public works, activism, and humanitarian acts. In 1993, Steve Kaufman moved his studio to Los Angeles and remained prolific in painting iconic images until his untimely death in 2010.
The opening of Galleria Farini: Steve Kaufman Pop Art punctuates the pop art movement ever popular with the Italian public—its resurgence marked by a series of events dedicated to its pioneers and Steve Kaufman at the Palazzo Costanzi in Trieste (introduced by Vittorio Sgarbi), the Enzo Ferrari Museum in Modena (introduced by Philippe Daverio), and most recently, "Icons of Music" in Grado. This past summer, Steve Kaufman's 1997 painting, "Mozart State II" was acquired by the Stiftung Mozarteum Salzburg, the official Mozart museum and residence, for its permanent collection.
Pop art, the art of "popular culture," surged during the post war economic boom of the 1950's and 1960's, and coincided with the globalization of popular music and youth culture. Pop
art in its character was cheeky, funny, and hostile to other forms of art, with numerous styles and mediums for painting, assembly, and sculpture. Its international commonality, however, was an extreme interest mass media and mass production (text, photographs, screen printing, music, etc.) for the same mass culture.
After the height of Andy Warhol, pop art began to evolve by embracing social issues, with the development of new techniques and ways of expression. Young illustrator Steve Kaufman, befriended by Keith Haring in his early adulthood and Stan Lee through his love for comic art, continued to thrive and grow his art socially, far from the splendor of Warhol and his Factory years. The paintings for view at Galleria Farini: Steve Kaufman Pop Art succinctly show this evolution.